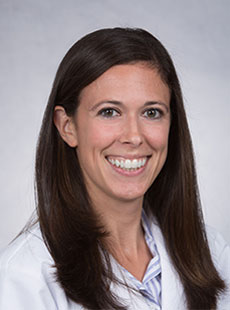 Clinical Interests
Amanda N. Goldin, M.D. specializes in the surgical treatment of musculoskeletal tumors. She is an assistant professor in the Department of Orthopaedic Surgery at the University of California, Irvine. Her clinical interests include the treatment of bone and soft tissue sarcomas and skeletal metastatic disease. She graduated from the University of Michigan, after which she attended Saint Louis University School of Medicine. During medical school she received numerous honors including election to the Alpha Omega Alpha Honor Medical Society, and the Rodney M. Coe M.D. Award, a recognition for community service reserved for 15% of her medical school class. She completed her residency in orthopaedic surgery at the University of California, San Diego. She completed her training in musculoskeletal oncology at Vanderbilt University Medical Center.
Research Interests
Dr. Goldin has interests and experience in both clinical and basic science research. While a resident she was awarded multiple research grants. Her presentations won 1st place in the basic science category two years in a row at the Southwest Regional Resident Research Symposium. She has attending numerous national meetings with organizations including the Musculoskeletal Tumor Society, the Society of Surgical Oncology, and the American Academy of Orthopaedic Surgeons.
Assistant Professor
Department of Orthopaedic Surgery
University of California, Irvine
Undergraduate:
The University of Michigan, Division of Kinesiology B.S., Movement Science
Medical School:
Saint Louis University School of Medicine M.D.
Residency:
UC San Diego
Orthopaedic Surgery
Fellowship:
Vanderbilt University Medical Center
Musculoskeletal Oncology
(Dr. Ginger Holt, Director)
To know more info about Amanda N. Goldin, click here.