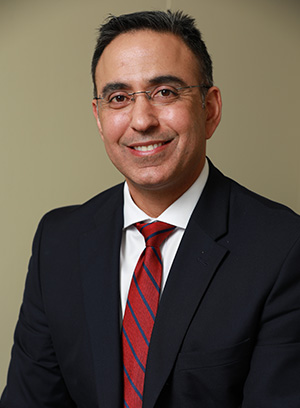 Letter from Nitin N. Bhatia, M.D. Chairman of the Department of Orthopaedic Surgery
Whether you are a patient, referring physician, student or other interested party, the University of California, Irvine, Department of Orthopaedic Surgery is here for you. We hope you will use our website to explore the various clinical, academic, and research programs available in orthopedics at our multiple locations.
As one of the most dynamic orthopedic programs in the country, UCI Health provides care for all orthopedic conditions and injuries. We treat not only the musculoskeletal problem, but the whole patient in a holistic and integrative method. We emphasize compassion, kindness, and state of the art customized care for each patient and their family.
UCI Health provides surgical and non-surgical care for patients throughout Orange County, Los Angeles, Riverside, San Diego. Many patients travel from throughout the United States and the rest of world for our renowned care, and accommodations can be made to make your stay as comfortable as possible.
If you have any questions that have not been answered by this website please feel free to contact us or visit our orthopedic referral page to request a physician.
Sincerely,
Nitin N. Bhatia, M.D.
Chairman, Department of Orthopaedic Surgery
Chief, Spine Surgery
Department of Orthopaedic Surgery
UCI Health