One of the fundamental missions of the Department of Orthopaedic Surgery at the University of California, Irvine is the advancement of musculoskeletal medicine and healthcare. It is this critical mission that helps to define our orthopaedic department. Towards this end, we have five full time research laboratories at multiple locations within the University of California, Irvine including the Irvine main campus, UC Irvine Medical Center, and the Long Beach VA Medical Center.
The following are the current areas of research excellence in the Department of Orthopaedic Surgery.
Joint Tissue Repair and Regeneration (P.I.: Dean Wang, M.D.).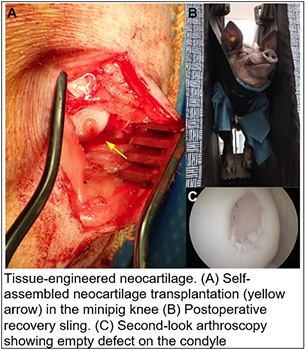 Dr. Wang's research focuses on treating sports-related injuries of the knee, hip, and shoulder and preventing the development of osteoarthritis in these joints. Dr. Wang collaborates with Kyriacos Athanasiou, PhD, from the Department of Biomedical Engineering, to investigate novel cartilage repair techniques via application of tissue engineering principles. Their work focuses on the repair and healing of articular cartilage, meniscus, and other tissues that are vital for joint function. Additionally, Drs. Wang and Athanasiou are co-founders of a start-up company, Cartilage Inc., born under the UCI Beall Applied Innovation's Wayfinder program, to translate and commercialize these cartilage repair technologies for human use. The ultimate goals of this work are to repair and regenerate damaged cartilage tissue in young, active patients, thus allowing them to return to sport and preserving the long-term health of their joints.
Select Publications
Kwon H, Brown WE, Lee CA, Wang D, Paschos N, Hu JC, Athanasiou KA. Surgical and tissue engineering strategies for articular cartilage and meniscus repair. Nat Rev Rheumatol, 2019 Sep;15(9):550-570. PMID: 31296933
Lai WC, Iglesias BC, Mark BJ, Wang D. Low-intensity pulsed ultrasound augments tendon, ligament, and bone-soft tissue healing in preclinical animal models: A systematic review. Arthroscopy. 2021 Jul;37(7):2318-2333.e3. PMID: 33621647
Parisien RL, Ehlers CB, Cusano A, Tornetta P, Li X, Wang D. The statistical fragility of platelet-rich plasma in rotator cuff surgery: A systematic review and meta-analysis. Am J Sports Med. 2021 Mar. In press. PMID: 33646884
Oyadomari S, Brown WE, Kwon H, Otarola G, Link JM, Athanasiou KA, Wang D. In vitro effects of bupivacaine on the viability and mechanics of native and engineered cartilage grafts. Am J Sports Med. 2021 Apr;49(5):1305-1312. PMID: 33667144
Wang D, Cubberly M, Brown WE, Kwon H, Hu JC, Athanasiou KA. Diagnostic arthroscopy of the minipig stifle (knee) for translational large animal research. Arthrosc Tech. 2021 Feb;10(2):e297-301. PMID: 33680759
Patel S, Amirhekmat A, Le R, Williams III RJ, Wang D. Osteochondral allograft transplantation in professional athletes: Rehabilitation and return to play. Int J Sports Phys Ther. 2021 Jun;16(3):941-958. PMID: 34123544
Ongoing Grants
Vericel Investigator Sponsored Trial Grant
Return to work and sport after MACI treatment in the knee
NSF SBIR Phase I 2036583
Development of a biological adhesive, ChondrofluidTM, for the fixation and integration of cartilage implants
R43 AR077461
NIH/NIAMS
Evaluation of Hyaleon'sTM pre-clinical safety and efficacy for healing large cartilage defects in the knee
Dr. Caiozzo's laboratory focuses on muscle physiology and mechanics, especially in regard to space exploration and orthopedics.
Dr. Gupta's laboratory focuses on the Schwann cell control of neural injury with an emphasis on understanding the molecular pathogenesis of chronic nerve injuries, improving treatments for spinal cord injury, and exploring the role of neural injury with rotator cuff injuries.
Orthopaedic Trauma Research
John A. Scolaro, MD, MA
Dr. Scolaro's interests are focused on biomechanical and clinical outcomes investigations. He continues to work closely with Thay Q. Lee, Ph.D., Professor Emeritus of Orthopaedic Surgery, in the Orthopaedic Biomechanics Laboratory. Current clinical research at UCI is focused on the role that the endocannabinoid system plays in the management of perioperative pain following fracture surgery. In addition, Dr. Scolaro and the orthopaedic trauma division collaborate with institutions across North America on several larger multicenter studies. Funding for clinical and biomechanical work has been awarded from: AO North America, Foundation for Orthopaedic Trauma, Orthopaedic Trauma Association and Orthopaedic Research and Education Foundation.
A list of Dr. Scolaro's peer-reviewed publications can be found here.
Additional links: