Latest News & Press Release
UCI Orthopaedic Surgery Residents and Faculty Selected to Speak at the 2019 Western Orthopaedic Association Meeting
Dr. Andrew Alvarez, Dr. David Wright, Dr. Russell Stitzlein, and Dr. Dean Wang presented their research at the 2019 Western Orthopaedic Association Meeting in Monterey, CA on July 31-Aug 3, 2019. Dr. Nitin Bhatia, Dr. Yo-Po Lee, Dr. Russell Stitzlein, and Dr. Dean Wang also served as faculty for the meeting.
Doctors discharge teen after reattaching arm severed in Laguna Beach accident
Trauma surgeon Sebastian Schubl, center, speaks during a press conference regarding the successful treatment of a teenage patient at UCI Medical Center in Orange on Thursday, August 9, 2018. Team members included plastic surgeon Wendy Ng, trauma services chief Michael Lekawa, orthopedic surgeon James Learned, anesthesiologist Katherine McCartney and resident physician Staci Sakai, from left. They were able to reattach his right arm after more than seven hours in the operating room that day. The team reattached nerves, rebuilt muscle and blood vessels and stabilized the damaged bone. Since then, the patient has undergone six additional operations. (Photo by Kevin Sullivan, Orange County Register/SCNG)
2019 Charles S. Neer Award
Please help UCI's Department of Orthopaedic Surgery to congratulate Dr. Ranjan Gupta on being named the winner of the 2019 Charles S. Neer Award from the American Shoulder and Elbow Surgeons for recognition of his outstanding clinical investigations contributing to the understanding, care and prevention of injuries to the shoulder. Named after its benefactor Dr. Charles S. Neer, this prestigious award has been presented annually since the first Open Meeting of the American Shoulder and Elbow Surgeons and is chosen after a rigorous selection process by members of both the Program Committee and Research Committee of the American Shoulder and Elbow Surgeons. Recent awardees have been from the Hospital for Special Surgery, the Rothman Institute, UCLA, and the Cleveland Clinic.
Dr. Dean Wang chosen for the ICRS/Vericel Lars Peterson Clinical Travelling Fellowship
Dr. Wang was chosen for the ICRS/Vericel Lars Peterson Clinical Travelling Fellowship, which selects future leaders in the field of cartilage regeneration and joint preservation. He will travel with 2 other selected surgeons and Godfather Dr. Tom Minas to several hospitals around the country to view the latest cartilage restoration surgical procedures and participate in scientific and social events with the hosting expert cartilage surgeons. It will culminate with the ICRS 2019 World Congress in Vancouver, Canada, Oct 5-8, 2019, where Dr. Wang will also present his research on osteochondral allograft transplantation.
Dr. Wang was elected a candidate member of the American Shoulder and Elbow Society (ASES).
The ASES is a society made up of leading national and international Orthopaedic surgeons who specialize in surgery of the shoulder and elbow, and is one of the premier orthopaedic organizations in the country.
The Doctor vs. Device Makers
Dr. Charles Rosen is on a mission to end the conflicts of interest between manufacturers and physicians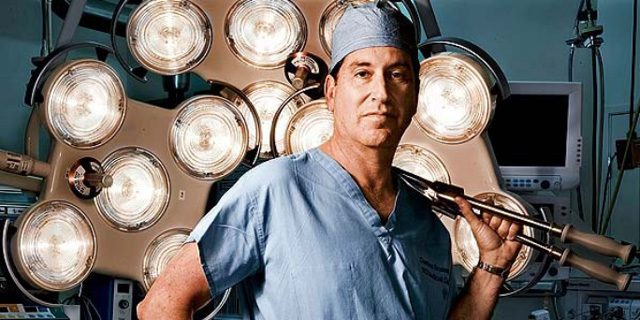 In February, spine surgeon Dr. Charles D. Rosen stood before the Senate Special Committee on Aging and chastised the medical device industry for its unethical marketing practices. Rosen, a professor of orthopedic surgery at the University of California at Irvine, told legislators that surgeons often receive huge consulting fees from companies in return for using the manufacturers' products or promoting them as participants of medical societies and business ventures. "Patients usually don't know of this conflict, which leads frequently to unnecessary implants and surgery," he told 20 senators.
Orange County Business Journal
Posted on:
May 20-26, 2019
Couple's TruthMD Outs Bad Doctors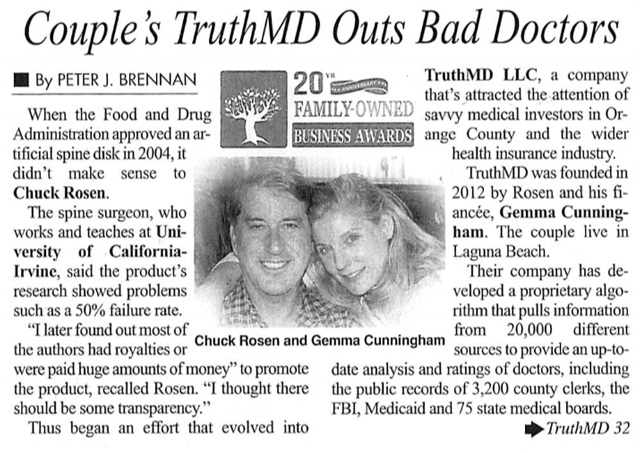 A 17-year-old athlete with recurrent ankle sprains
Posted on:
August 17, 2017
A 17-year-old female high school soccer player with no medical comorbidities presented to clinic with right ankle pain that progressively worsened in the past 6 months. For 4 years, she had been diagnosed by her primary care physician and athletic trainers as having recurrent ankle sprains and ankle instability.
Dr. Steven D.K. Ross Retirement
The Department of Orthopaedic Surgery would like to congratulate Dr. Steven Ross on his retirement after 33 years of dedicated service and care to his patients and the community. We celebrate his prestigious career and wish him the the best during the next chapter of his life. His legacy of teaching, mentorship, and professionalism will always be remembered at UC-Irvine. Dr. Andrew Hsu will be taking over as the head of the Foot & Ankle Surgery section and will continue to provide excellent care to patients in the years ahead.