Medical Student Elective Programs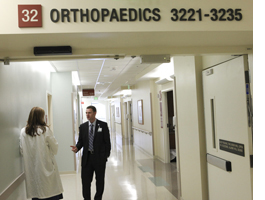 The Department of Orthopaedic Surgery strongly supports and fosters Visiting Medical students to spend a 4-week elective with our department. While this is primarily coordinated with the School of Medicine at UC Irvine, we appreciate that this can be a challenging during the busy months of July through November. Please send an email to our Residency Coordinator- Maria Lampino - so that she is aware and we can assist you with the process.
Department of Orthopedic Surgery strongly encourages interested applicants to rotate at UC Irvine
Description
This elective rotation is intended for medical students serving in a sub-internship role on the Orthopaedic Surgery service at UCI Medical Center. The goal of the rotation is to teach basic Orthopaedic examination techniques, functional splinting and casting, and expose the student to a wide diversity of Orthopaedic patients and surgical interventions. This course will include Orthopaedic focused emergency room management, outpatient musculoskeletal care, and significant operative experience. Didactics include weekly Grand Rounds given by the department faculty and residents as well as weekly service specific conferences and various journal clubs with specific focus on trauma, spine, joints, and hand depending on the appropriate service.
Objectives
Basic Orthopaedic examination
Splinting techniques
Outpatient management
Emergency room management
Operative experience
Responsibilities
The student is an important component of the Orthopaedic Surgery service at UCIMC and goal-oriented tasks include the following: rounding, basic splinting, and clinical care in the various outpatient, emergency room and operating room settings. Call requirements range from every fourth to seventh night depending on the number of current rotators. The student will also have the opportunity to present a case presentation at grand rounds to the residents and faculty members.
Evaluation
The students will be evaluated by the appropriate residents of the varying services as well as the faculty present at UCIMC. Clinical evaluations are based on knowledge base, clinical and surgical performance, and their ability to work as part of a team with other sub-interns, residents and faculty members
Periods Available
4 week blocks beginning on a Monday and ending on a Friday
Reporting Instructions
Please come prepared to UC Irvine Douglas Hospital at 06:30 AM to the third floor, second wing Orthopaedic Resident Workroom.
For more information, please contact Amy Sanchez at [javascript protected email address]
Residency Program Director
Coordinator:
Maria Cristina Lampino Guerrero
Residency Coordinator
Department of Orthopaedic Surgery
(714) 456-5547
Fax (714) 456-7547
[javascript protected email address]