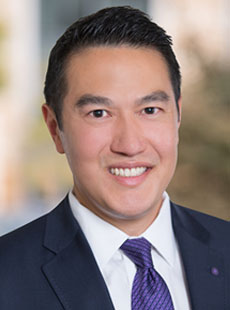 Clinical Interests
Dr. Hsu is the Chief of the Foot & Ankle Division at UCI Orthopaedics. He is a Board Certified, fellowship trained Orthopaedic foot and ankle surgeon who provides comprehensive nonsurgical and surgical approaches for the treatment of all foot and ankle disorders. Dr. Hsu has strong interests and clinical experience with sports-related injuries, arthroscopy of the foot and ankle, cartilage restoration, arthritis, total ankle replacements, deformity correction, diabetic reconstructive surgery, bunion and claw toes, and complex fractures about the foot and ankle. All treatments are individualized for each patient and designed to return patients to their highest level of functional capacity in the shortest time possible. Dr. Hsu utilizes advanced surgical techniques with minimally-invasive approaches.
Research Interests
Dr. Hsu has been involved in numerous clinical studies and publications relating to the foot and ankle. Dr. Hsu's research interests involve patient-focused clinical outcomes and interventions research to improve patient care. Dr. Hsu has published over 90 peer-reviewed scientific manuscripts, book chapters, and multimedia articles thus far in his career.
Dr. Hsu is an active member of numerous professional societies including the American Orthopaedic Foot & Ankle Society, American Academy of Orthopaedic Sureons, and was selected by the American Orthopaedic Association as an Emerging Leader. He has received numerous awards for Orthopaedic research, leadership, and teaching from multiple institutions.
Background
Dr. Hsu graduated with a Bachelor of Science with Honors from Stanford University. He then spent two years dedicating himself to clinical research in Applied Physiology at the Palo Alto Veterans Affairs Hospital before going on to receive his Doctorate of Medicine from the Stanford University School of Medicine.
He completed a General Surgery internship and residency in Orthopaedic Surgery at Rush University Medical Center in Chicago, IL. Subsequently, Dr. Hsu completed an Orthopaedic Foot & Ankle Surgery fellowship at the OrthoCarolina Foot & Ankle Institute in Charlotte, NC with nationally and internationally known foot and ankle experts where he specialized in the management of complex foot and ankle injuries and cared for a diverse array of patients including professional athletes from the NFL, NBA, and MLB. Dr. Hsu has practiced at UCI Orthopedics since 2015 and is actively involved in the education and mentorship of medical students, residents, and young surgeons throughout the country.
Stanford University – Palo Alto, CA
Stanford University School of Medicine – Palo Alto, CA
Rush University Medical Center – Chicago, IL
OrthoCarolina Foot & Ankle Institute – Charlotte, NC
American Board of Orthopaedic Surgery (Part I) - Passed 2014
American Board of Orthopaedic Surgery (Part II) - Passed 2017