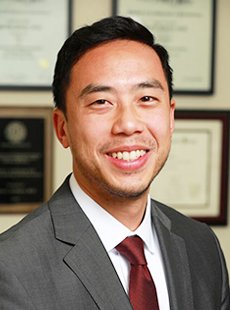 Clinical Interests
Dr. Wang is a fellowship-trained orthopaedic surgeon who specializes in sports-related injuries of the knee, shoulder, hip, and elbow. His clinical expertise includes advanced minimally invasive arthroscopic procedures and reconstructive joint surgery. He has specialized training in the field of biologic joint preservation procedures, including modern cartilage restoration techniques and arthroscopic hip preservation surgery. He is the Chief of the Sports Medicine Division at UCI and a team physician for UCI Athletics.
Research Interests
Dr. Wang is accomplished in both clinical and laboratory research and has authored more than 70 scientific manuscripts and textbook chapters that have received national recognition and awards within the field of sports medicine. His specific research interests include novel procedures for cartilage repair and restoration, biologic therapies for cartilage, tendon, and ligament repair, and knee ligament reconstruction and joint biomechanics. He is frequently invited to lecture on these topics both nationally and internationally.
Background
Dr. Wang was born and raised in the Baltimore metropolitan area. He obtained his undergraduate degree in Biomedical Engineering from Duke University, where he graduated cum laude. He received his medical degree from the Cleveland Clinic Lerner College of Medicine of Case Western Reserve University, where he was a Howard Hughes Medical Institute-NIH Research Scholar. Dr. Wang completed his residency in Orthopaedic Surgery at UCLA Medical Center. He subsequently completed a two-year fellowship in Sports Medicine and Shoulder Surgery at the prestigious Hospital for Special Surgery in New York City, frequently recognized as the #1 Hospital for Orthopaedic Surgery by US News & World Report. During this time, he served as an assistant team physician for the New York Giants (NFL), New York Red Bulls (MLS), and Iona College Athletics, as well as an orthopaedic consultant for the ACC Men's Basketball Tournament.
Dr. Wang currently provides care at the UC Irvine Medical Center in Orange and the Orthopaedic and Sports Medicine Center in Costa Mesa.
Awards
Dr. Wang was chosen for the ICRS/Vericel – Lars Peterson Clinical Travelling Fellowship, which selects future leaders in the field of cartilage regeneration and joint preservation. He will travel with 2 other selected surgeons and Godfather Dr. Tom Minas to several hospitals around the country to view the latest cartilage restoration surgical procedures and participate in scientific and social events with the hosting expert cartilage surgeons. It will culminate with the ICRS 2019 World Congress in Vancouver, Canada, Oct 5-8, 2019, where Dr. Wang will also present his research on osteochondral allograft transplantation.
Dr. Wang was elected a candidate member of the American Shoulder and Elbow Society (ASES). The ASES is a society made up of leading national and international Orthopaedic surgeons who specialize in surgery of the shoulder and elbow, and is one of the premier orthopaedic organizations in the country.
Russell F. Warren, M.D. Fellow Award, Hospital for Special Surgery – 2018
Musculoskeletal Transplant Foundation (MTF) Biologics Junior Investigator Grant – 2018
AOSSM Annual Meeting Poster Award, 2nd place – 2018
Orthoregeneration Network (ON)/AOSSM Education Grant – 2018
ON/AANA Education Grant – 2018
ON/ICRS Education Scholarship – 2018
Arthroscopy Journal Resident/Fellow Research Excellence Runner-up – 2017
Orthopaedic Research and Education Foundation (OREF) Clinician Scientist Training Grant – 2017
AANA Resident Scholarship – 2016
H & H Lee Resident Travel Grant –2015
OREF Resident Research Project Grant – 2014
American Orthopaedic Foot and Ankle Society (AOFAS) Resident Scholarship – 2014
Howard Hughes Medical Institute–NIH Research Scholars (Cloister) Program – 2008-09
Cleveland Clinic Lerner College of Medicine Full Scholarship – 2007-11
Cum laude, Duke University – 2006
Pratt Engineering Research Fellowship, Duke University – 2005-06
For more information, please visit www.deanwangmd.com
Duke University, Durham, NC
Case Western Reserve University – Cleveland Clinic Lerner College of Medicine, Cleveland, OH
UCLA Medical Center, Los Angeles, CA
Hospital for Special Surgery, New York, NY
American Board of Orthopaedic Surgery (Part I) – 2016