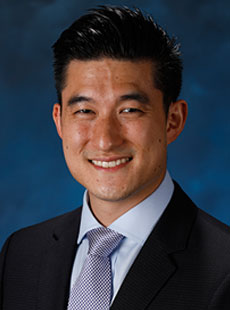 Clinical Interests
Dr. Steven Yang is a fellowship-trained orthopaedic surgeon who specializes in adult reconstructive surgery, with a focus on primary and revision hip and knee arthroplasty. He has specialized training in modern arthroplasty techniques, including anterior-approach hip replacement, computer-assisted joint replacement, patient-specific knee replacement, and partial knee replacements. He also treats patients who have complications from failed or painful hip and knee replacements.
Research Interests
Dr. Yang has published numerous articles and book chapters in the field of joint replacement. His specific research interests include metal allergy in total hip and total knee replacement, techniques in anterior hip replacement, and enhancing function in the younger population of joint replacement patients.
Background
Dr. Yang is a Southern California native. He obtained his undergraduate degree in Bioinformatics from the University of California San Diego, where he also completed a master's in molecular biology. He received his M.D. and M.B.A. degrees from the University of Miami. He completed his orthopaedic surgery residency at Harbor-UCLA Medical Center, and his fellowship in adult reconstructive surgery at Columbia University.
For more information please visit www.stevenyangmd.com